Browse Our Eminence Products!
Welcome to The Nail Bar & Beautique!
The Nail Bar & Beautique wants to be your home away from home; a place to slow down and take time for YOU. From the moment you walk in you are greeted with an environment filled of relaxation, happiness, and cleanliness. At The Nail Bar & Beautique you will be treated with a calming luxury experience that not only allows you to get pampered, but also allows you to enjoy the experience of it. We understand everyone relaxes differently, so whether you'd like to bring a book and prefer quiet during your pedicure, or maybe you'd like to treat your manicure like a confessional booth and chat away; we look forward to giving you the space that fits your mood. It's your special moment to breathe, so let us make it the perfect one.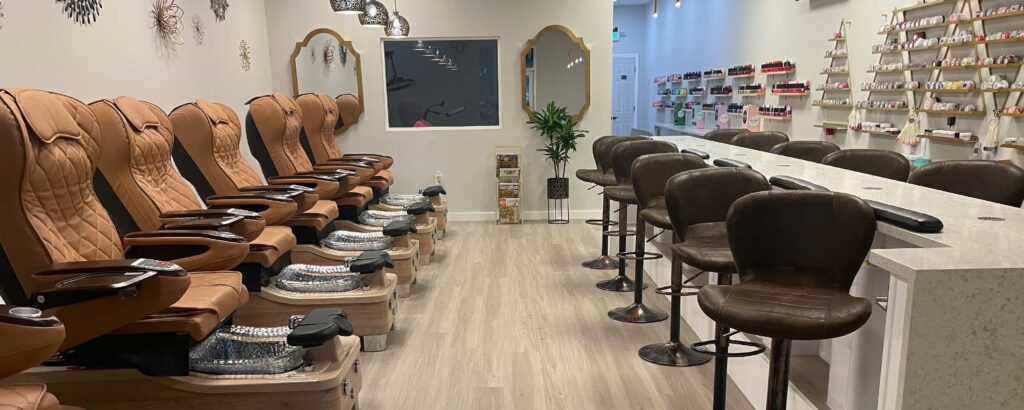 Our air quality control systems exceed Florida's state and our county code requirements. We have a ventilation system at EACH nail station that removes toxic chemicals, dust, and bacteria out of the air. This also extinguishes any strong nail product smells, offering safer and cleaner air than any other salon.
Your safety and comfort are our top priorities. At The Nail Bar & Beautique, we have a strict cleaning schedule that includes using ONLY hospital grade cleaning supplies for the whole salon. Our utensils are stainless steal and non-porous. All utensils are scrubbed with anti-bacterial hospital grade soap, soaked in a hospital grade BARBICIDE solution, and dried in a UV sterilizing box before each use. Each of our clients will also be supplied with their own manicure and pedicure kit which is discarded after each use. 
Tina and all the ladies are so lovely. She does an amazing job, I refer all my clients to them and the boutique is gorgeous. I always have the best experience and leave with amazing nails.
The best nail salon in St. Augustine!!! Professionally all equipped with the most modern equipment, amazing staff!
Very clean, wonderful staff with a very welcoming atmosphere, followed all precautions to keep clients safe, very impressive and can't wait to go back!
I got a full set of acrylics with gel polish they turned out so cute! Everyone was very nice and the nail tech did a great job on my nails.