Welcome To The Nail Bar & Beautique!
What is The Nail Bar & Beautique? 
   
The Nail Bar & Beautique
is a modern beauty bar and
nail salon in St Augustine
that offers a curated selection of aesthetic services and treatments that enhance your natural beauty from head to toe. Whether it's a mani or pedi, waxing, permanent makeup, facial, or the best
lash extensions in St Augustine Fl
, the team at The Nail Bar & Beautique is able to customize your experience while you sit back, relax, and indulge in a self-care ritual that will revitalize and energize your mood.
 Book an appointment with our leading nail salon in St Augustine today and experience excellent client care and rejuvenation–because you're worth it!
Why Choose Us
 The Nail Bar & Beautique wants to be your home away from home—a place to slow down and take time for you. From the moment you walk in, clients are welcomed to relax in a calm, luxurious atmosphere while they take a break from the kids, the barking dogs, school, and work.
We understand that everyone finds solace differently, which is why we're committed to going above and beyond during each appointment you book with us. Whether you bring a book and for some quiet me-time during your pedicure or you want to treat your manicure session like a confessional booth where you can chat away, we look forward to giving you a space that exceeds your expectations.
It's your special moment to breathe and unwind. Let us make it a perfect one you will remember. Book a specialty beauty and spa treatment with The Nail Bar & Beautique today!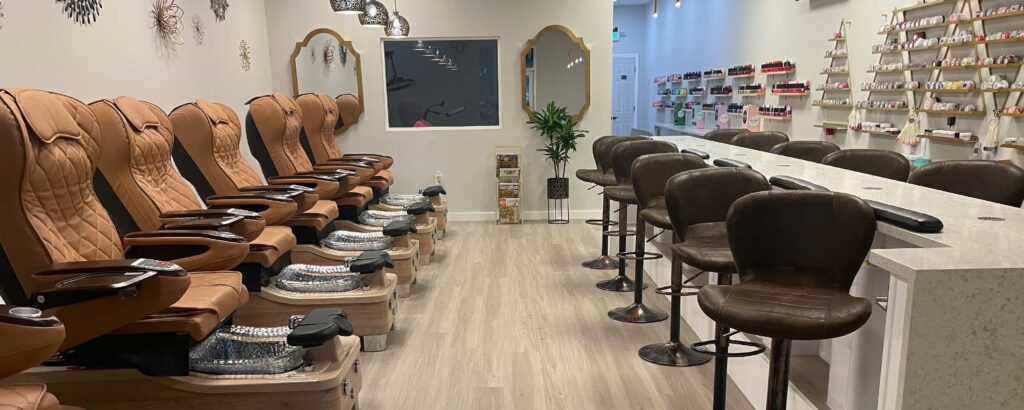 Our air quality control systems exceed Florida state and county code requirements. The ventilation system we place at each station removes toxic chemicals, dust, and bacteria from the air, offering safer and cleaner air than most other salons.
Above all, The Nail Bar & Beautique is more than just an eyebrow tinting salon near you. We are a modern oasis that encourages clients to pamper themselves so they can feel and look their best with innovative treatments, including our service for dermaplaning facial near you
Your safety and comfort are our top priorities. Our devices are all stainless steel, non-porous, soaked in a Barbicide solution, and dried in a UV sterilizing box before each use. Additionally, each client will be supplied with their personal manicure and pedicure kit, which is then discarded after each use. We also ensure our waxing stations are sterilized and clean at all times, so are ever ready to offer bikini wax near you.
The team at The Nail Bar & Beautique consists of friendly, industry-leading professionals with years of experience and expertise at their craft. Our goal is to make sure every client that walks into our beauty bar and feels comfortable and welcomed at all times. This is why we ensure your needs and expectations are at the forefront of our business and services.
Here at The Nail Bar & Beautique, we take pride in utilizing high-quality, professional products and tools that allow our team to provide you with effective results that will enhance your aesthetics until your next appointment with us.
Book an appointment for your nails, waxing, lash extensions, or one of our luxurious and effective facials in St Augustine today! We also know that when looking for microblading near you, cost will be one of your most important considerations, which is why we're proud to have the most affordable microblading services in the area.
Browse our Eminence Facial Products!
Tina and all the ladies are so lovely. She does an amazing job, I refer all my clients to them and the boutique is gorgeous. I always have the best experience and leave with amazing nails.
The best nail salon in St. Augustine!!! Professionally all equipped with the most modern equipment, amazing staff!
Very clean, wonderful staff with a very welcoming atmosphere, followed all precautions to keep clients safe, very impressive and can't wait to go back!
I got a full set of acrylics with gel polish they turned out so cute! Everyone was very nice and the nail tech did a great job on my nails.
An Important Message to Our Clients
To all our clients,
We are following strict guidelines inside the salon in order to limit the spread of COVID-19. We have promoted social distancing and all staff are required to wash their hands thoroughly throughout the day.
If you are not feeling well or have been exposed to COVID-19, we ask you—for your own safety, and that of our clients and staff—to let us know by phone so we can reschedule your appointment.
We thank you for your patience and understanding during these unprecedented times!